Bar Codes Talk has been an industry leader, operating in this space for over 10+ Years. We pride ourselves on many things, our pricing, speed of delivery, but most of all we pride ourselves on our unparalleled customer support. Having been in the industry for this long, we've heard story after story of customers being taken advantage of and decided to dedicate a page on our website to warn customers of who they could be purchasing from.
Over the last 10 years quite a few bad actors have popped up selling "fake," inauthentic, illegitimate, and unverified barcodes - not to mention getting in trouble with federal regulating industries and violating laws by colluding with other resellers, engaging in price manipulation, as well as, making false claims. Even companies that appear to be legitimate often don't offer any or timely support after the purchase.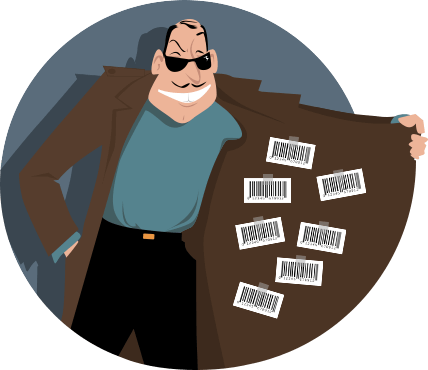 Let's start off with some tips to look for when purchasing from a UPC/EAN/GTIN barcode reseller.

The reseller must be selling barcodes that come from a prefix obtained from the UCC (Now known as GS1-US) prior to the 2002 UCC Class Action Lawsuit. Any barcode reseller not selling prefixes originally obtained from the UCC (US Only) prior to 2002 is illegally selling you something they do not own. Any UPC/EAN bought from GS1 (Not the UCC) or any other country is licensed and not an asset at which the reseller can legally sell.

Speak with our customer support team about the validity of our bar codes

The reseller is selling UPC/EANs at "Too good to be true" prices, much less than most other resellers. The old saying still holds strong, "if it's too good to be true, it probably is". Bar Codes Talk's prices are some of the lowest in the industry, yet we've seen others selling made up UPC/EANs who sell them for next to nothing, mostly because it costs them nothing to make up fake numbers. The last thing you would want is to print these barcodes on your packaging only to be told later on that they are illegitimate numbers and that you need to redo your packaging and/or labels. Thankfully the resellers that do this usually hit two or more of the red flags in this article.

The reseller should not have been in trouble with state or federal licensing, regulatory, and or law enforcement for any reason, most especially not selling illegitimate barcode numbers, or price-fixing. We suggest not doing business with companies that do not care about their customers and would rather break laws than provide honest competitive pricing. If the owner of a company is willing to go through the effort of illegal activities, what else might they be doing?

The reseller is a government registered verifiable business (No fly by night companies). If a company doesn't show up on a government registry (State or otherwise), there's no telling how long they will be around or if they have submitted their personal information to the government so that they can be contacted if they defraud you. Any legitimate business should have no issue registering their company with local or federal agencies.

The reseller must have a phone number, address, and email contact information. Where is the company located? Do they have phone support? What happens if there is an issue? If these questions cannot be answered then you most likely have no recourse if you are scammed by a fraudulent reseller or at a minimum have no idea if they will provide quick, knowledgeable support.

The reseller has a website and is not only selling on eBay or any other "auction" websites. We've found out that over 90% of these auction sites are selling illegitimate UPC/EAN numbers. They are completely made up, have no certificates or proof of ownership, and customers are being kicked/banned off of platforms that they sell their products on.
Unfortunately we cannot gather proof on every company in this space that wants to defraud you as a customer, however we did gather the following verifiable information.
Beware of the following companies:
Instant UPC Codes
Website: InstantUPCCodes.com
Owner: Jacob J. Alifraghis
Reason: Violated the FTC Act by inviting competitors to join in a collusive scheme to raise the prices charged for barcodes sold online
---
Information:
Additional:
Nationwide Barcode
Website: Nationwidebarcode.com
Owner: Philip B. Peretz
Reason: Violated the FTC Act by inviting competitors to join in a collusive scheme to raise the prices charged for barcodes sold online
---
Information: