What's the Difference?
If you plan on selling items online and in brick-and-mortar stores, you're likely going to need barcodes. Barcodes are machine-readable graphic symbols, in the form of parallel, vertical lines (and spaces) of varying widths, used to identify a product. The vertical lines also correspond to a series of numbers which is readable by specialized scanner hardware.
There are many types of barcodes, including UPC (Universal Product Code) and EAN (European Article Number) barcodes that many are familiar with. However, many retailers are now using GS1 UPC and EAN barcodes for inventory tracking and compliance.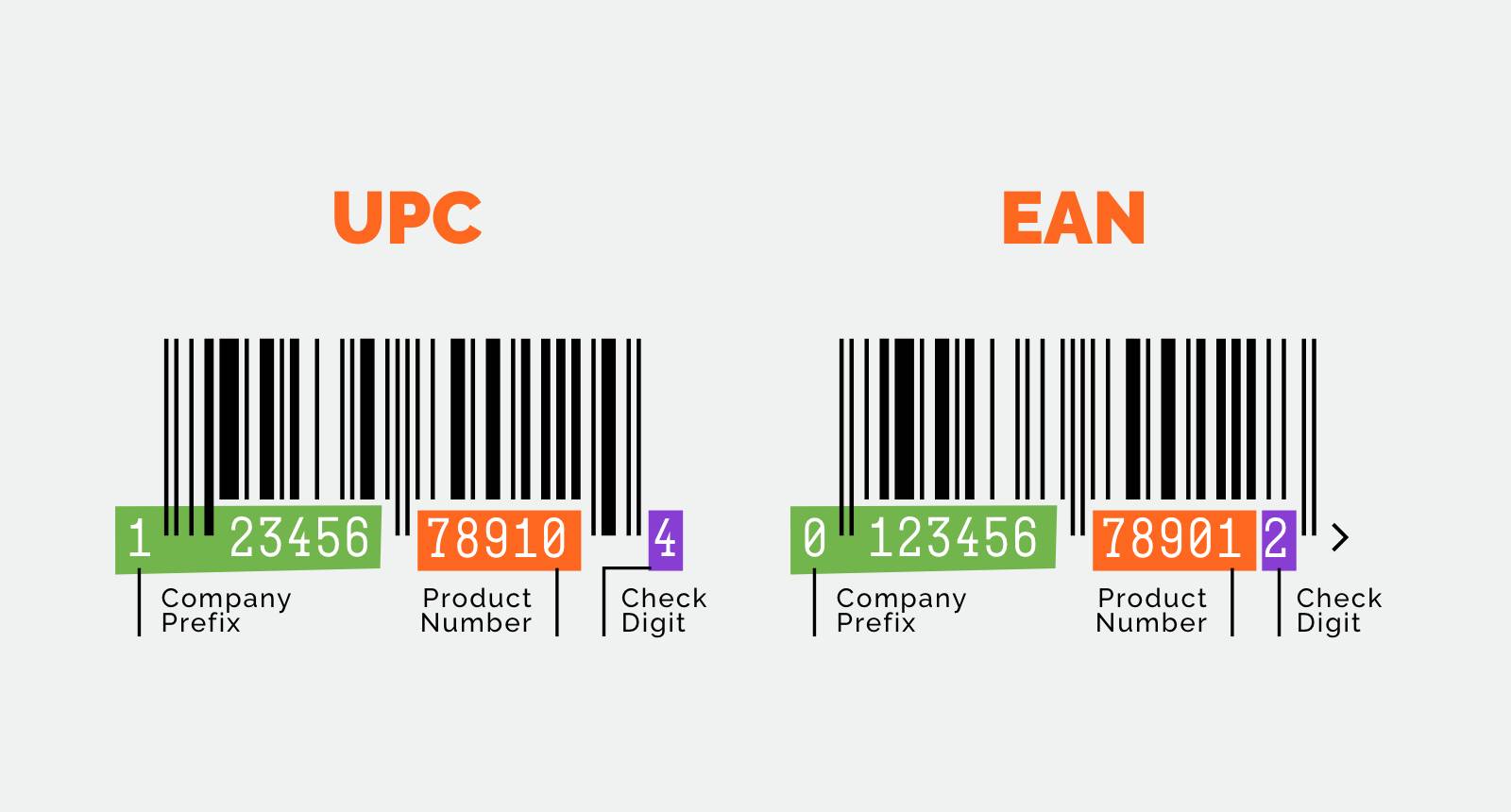 What Are "GS1" Barcodes?
GS1, or Global Standards 1, are barcodes provided by a private company named GS1 US®. GS1 works with global retailers and commercial facilities that adopt their new standard for inventory management, regulatory compliance and logistic solutions through their barcodes. Although GS1 US is a not-for profit entity, it is not a government organization.
How Are Barcodes Through GS1 Any Different From Bar Codes Talk?
Barcodes sold by the company GS1 and Bar Codes Talk are physically identical and all Bar Codes Talk UPC and EAN barcodes originate from GS1. They have the same structure of vertical black lines and spaces of varying widths with the identifying number underneath. We'll explain the non physical differences below.
Pricing Structure
Buying barcodes from an authentic barcode seller such as Bar Codes Talk is a one-and-done deal; you pay for a certain number of barcodes, you're issued those codes and you own them forever, with no further obligation.
In the case of GS1 barcodes, you will likely pay an initial fee for the number of barcodes you need, but there is an annual renewal fee for that block of codes you bought. Naturally, a larger quantity of codes requires a larger annual renewal fee. So, in effect, you are leasing those barcodes rather than buying.

*However, GS1 recently added a new option for a single GTIN purchase which does not require a renewal fee. The price is much higher on a per barcode basis than Bar Codes Talk and they recommend that you apply for the leased barcodes if you plan to purchase more than nine.
Company Prefix Identifier
The GS1 Company Prefix, which is the main selling point of the barcodes sold through GS1, ties your company's name directly to the prefix and allows this to be searchable on GS1's GEPIR database. A GS1 Prefix can be 6,7,8,9, or even 10 digits long, while resellers like Bar Codes Talk issue the full barcode number to companies. Bar Codes Talk sources their barcodes from companies that purchased 6 Digit Prefixes that generated up to 100,000 barcodes and have never used them or went out of business. GS1 was formally known as the Uniform Code Council and went through a class action lawsuit which gave the right for those "Grandfathered In" prefix owners to sell those prefixes. Since that lawsuit, the UCC changed their name to GS1 and modified how they provide Barcode Numbers to their customers so that it would be against their Terms of Service to subdivide or sell a prefix/barcode from GS1 after that lawsuit. GS1 also refuses to enter any third party sold barcodes into their GS1 database and only maintains the original Prefix purchaser in their GEPIR. Overall, very few companies are required to purchase directly from GS1 as most retailers recognize that GS1's database is outdated and they understand that businesses shouldn't be forced to purchase/lease from a single private entity.
What Stores Require Barcodes Purchased Directly From GS1?
While virtually every retailer requires a barcode for the products it sells, some retailers may not accept the GTIN (EAN & UPC) numbers issued by Bar Codes Talk because the GTIN number is not purchased directly through the GS1. These retailers include but are not limited to the following:
GS1 Required:

Walmart/Sam's Club (GS1 Board Member)*










May require:







*Amazon requires barcodes only bought directly from GS1 for Amazon's Brand Registry Members.
*Walmart.com accepts Barcodes purchased from Bar Codes Talk
For more accurate and up to date information please check out your retailer's policy on barcode acceptance.
Bar Codes Talk's barcodes work in virtually every store, including Amazon, Whole Foods, Walgreens, Target and more. This is because they comply with GS1's standards without making you pay a renewal fee. Bar Codes Talk is able to provide the same GTINs that GS1 does; the only difference is that we aren't able to supply a GS1 certificate or update a companies information in GS1's database, which is a requirement of some of the stores mentioned above. We are, however, able to supply an Authentic Certificate of Ownership for your numbers

Using Our Barcodes On Your Products
A necessary requirement for selling your products online (and offline as well)  is to have a barcode assigned to it. At Bar Codes Talk, it's our goal to help our customers secure high quality barcodes that work with virtually every retailer worldwide, for the lowest prices. We've sold over 200,000,000 Barcodes that can be found in your favorite brick and mortar and online retailers. See how easy it is to purchase barcodes directly from your computer and let us help you to start selling your products successfully.