FNSKU vs UPC
What do you need to use between FNSKU vs UPC barcodes when selling on Amazon? Or do you need both? Barcodes can get quite confusing. Let's get these different types of barcodes explained.
New to selling on Amazon and can't get your head around what's the deal with the barcodes?
GTIN, FNSKU, UPC, EAN, ISBN – lots of abbreviations.
They sound confusing, we know.
The part where most new sellers stumble is when it comes to FNSKU vs UPC barcodes. And it's completely understandable.
You start out excited about selling on Amazon until you are required to provide different barcode types and a lot of questions start popping up.
Do you need UPC barcodes?
Do you need to have UPC labels on the products?
When do you need to print FNSKU labels on the packaging?
Where do you get FNSKU codes from?
In this post, we'll explain what each of them stands for, what is their purpose, where can you get them from, and how you should use them.
---
Types of Amazon barcodes: GTINs
Global Trade Item Number in the equivalent of "barcode". GTIN is a numeric code made out of between 12, 13 and 14 digits. They refer to the scannable barcode any sold item has, anywhere on the globe. Amazon uses these codes to identify the item you're selling in their database.
GTINs can be either UPCs, EANs, or ISBNs, depending on the location and the nature of the product.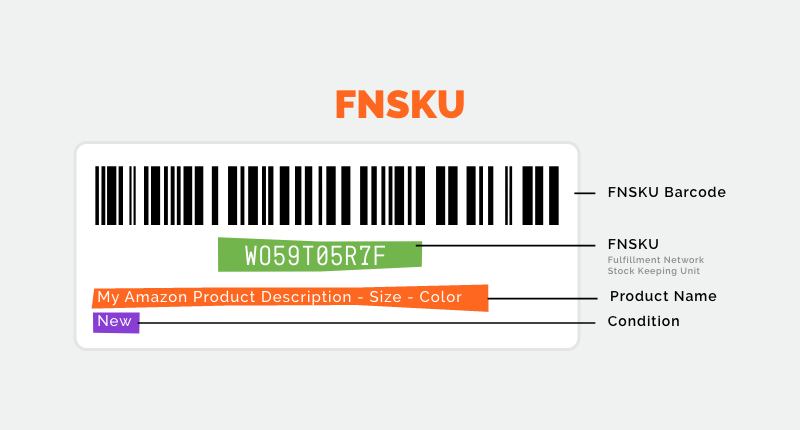 UPC (GTIN-12)
UPC stands for Universal Product Code, used in the USA and Canada.
The UPC code is required when creating a product listing page as it's used to track the product in Amazon's database. Also, it may be used in the Amazon warehouse for their inventory if you don't provide an FNSKU code (we'll get to it in a moment).

[Examples of Amazon UPC barcodes: UPC-A and UPC-E]
When you create a listing you'll be required to grant the product ID, which you'll change to UPC code in this example below:

[Amazon Select Product ID]
This will only be required if the product you want to list isn't already on Amazon. If the product is already sold on Amazon by other merchants, all you need to do is add the ASIN number which you can find on the products' page in the product details section.

[Get the ASIN of a product]
You don't need a barcode for each item you have, you only need one barcode for a variation of a product. So even if you have 3,000 units of a product you'll only need one barcode to identify it.
EAN (GTIN-13)
"European Article Number" is the European equivalent of UPC. Most used EAN barcodes are made out of 13 digits (EAN-13), while the 8 digit EAN barcodes (EAN-8) are used less often on small packages.
EAN barcodes are basically UPC codes with an extra number in the beginning which represents the country code. For example, the code for the US is "0", for Sweden is "7", and for Cuba is "8".
ISBN
International Book Number can be 10 or 13 digits depending on the book's publishing date. All books that have been published after January 1, 2007, have 13 digit codes.
Like the name suggests, these ISBN barcodes are used in the book industry. ISBNs can only be acquired from ISBN.org or Bowker.com, these two are the same organization. 
UPC barcodes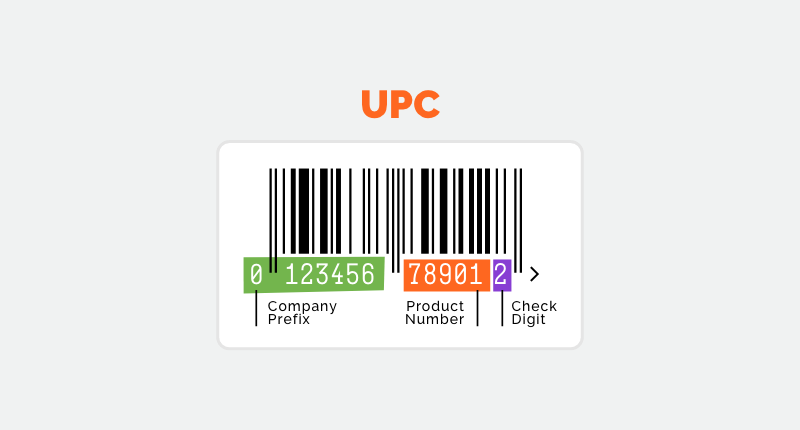 How to get a UPC barcode?
To get the UPC code the first step is to get in touch with your manufacturer or supplier. In most cases, they will have a UPC/EAN code you can use.
Sometimes, it may happen that the supplier doesn't have a UPC so you'll have to buy one yourself. For example, you won't have a UPC code provided by the manufacturer if you sell private label products or bundles.
Where to buy UPC or EAN barcodes from?
There are only two ways to acquire a legal GTIN (UPC/EAN), you either rent from GS1 directly or buy them from a prefix-owner due to GS1-USA's class action lawsuit that took place in 2002. Many don't know that from the very beginning in the 1970s GTINs were sold outright to businesses in huge blocks called prefixes (Similar to an area code of a phone number). This changed in 2002 when GS1 switched to a more sustainable rental business model. From that point forward they rented barcodes to businesses in blocks of 10, 100, 1k, 10k & 100k variable-length prefixes.  
GS1, for a minimum of 10 barcodes, charges $250 up front and $50 per year fee. Be mindful of their renewal fee, if you miss it you'll have a hefty late fee. If you stop paying it your membership doesn't go away or expire, you'll be assessed with late fees and a cancellation fee or be sent to collections.
At Bar Codes Talk there is no minimum charge or annual renewal fees. All of our pricing is listed HERE. This is because all of our GTIN inventory comes from legacy GS1-USA barcode prefixes that were issued prior to 2002. These  grandfathered prefixes (equating to billions of UPCs) are independent of GS1 due to their settlement in 2002. That means you can own your GTINs for life, with only a one time purchase price. If you're interested in becoming Brand Registered on Amazon this will not help you, as you'll still need to get your GTINs from GS1 for that exclusive seller program, more on this later. 
The risks of buying UPCs from shady sources
You may find some places selling barcodes for pennies, one example are eBay sellers, but this would not be wise. There are lots of vendors who sell barcodes which are not legitimate and cannot be traced back to a legal contract prior to 2002. One way to check if a barcode seller is legitimate is to see if they publish their address, phone number and actually answer their phone during business hours. You can also verify their status with industry watchdogs like the Better Business Bureau or sites like Trust-Pilot. 
Learn more on how to spot shady resellers HERE. Skimping on good, legal barcodes is not an expense to cut corners on. If you simply cannot afford to get legal barcodes you are not out of luck, there are options for you in the next section.
How can you skip providing a GTIN?
Amazon Brand Registry
If you are eligible to apply for Amazon Brand Registry, this status will give you the option to list your products without a GTIN.
This is true only if you are not selling through the FBA program. If you are an FBA seller, you'll need the UPC as your products will go into the warehouse.
For this, you'll need a trademark registered at the US Trademark Office.
This approach is not cost-free, so you have to make some estimations to see if it's more convenient for you to trademark your brand or to directly rent UPCs from GS1.
How to apply for GTIN exemption
You can also apply for a GTIN exemption if you sell private label products or bundles, meaning that you don't have to provide a UPC code if Amazon accepts your submission.
To be eligible for GTIN exemption you need to meet certain criteria:
The manufacturer, brand or publisher does not provide a GTIN. This is the case for private label products and hand-made products, for example.
Products that are non-branded and don't have a GTIN, like wholesale.
Parts that don't have a GTIN, like in the case of automotive parts.
Customized bundles that don't have a GTIN.
To apply for a GTIN exemption you need:
A letter from your manufacturer, brand owner or publisher which proves that they don't provide a GTIN containing: issuer's name and contact info, your physical address and contact info, must clearly state that the manufacturer doesn't provide a GTIN for the products you sell, has to be in English.
Show the products either through your website, or, if you don't have a website, by uploading the images to an online image service provider.
There are cases when this method can be daunting. For example, if you have bundles made out of 4 items from different brands or manufacturers, then you'll need a letter from each brand.
FNSKU barcodes
"Fulfillment Network Stock Keeping Unit" refers to the Amazon's own barcodes used for labeling your products to track them in their warehouse. FNSKU labels need to be placed on every product unit that goes into the warehouse.
Why provide FNSKU labels?
If you send the products with just the UPC code, and your competitor does the same thing, sending his products with just the UPC code, what will happen is that both your cargo and your competitor's cargo will end up thrown together in the same bin. From there, if you fulfill an order, the responsible person in the warehouse will go to the shelf and pick one random product (because they are all the same, aren't they?) without knowing if it's your product or your competitor's. There's the risk that your competitor's products are remakes, counterfeited or in a bad shape.
So it's better to have an FNSKU code and make sure your products are not mixed up with someone else's.
How to get the FNSKU barcodes?
Create the product listing
You go to your seller central
You go to inventory
On the products you're gonna be sending into Amazon you click on the drop-down button and select "print item labels"
It will take you to a page where you can print the FNSKU barcodes
How to place FNSKU labels on products?
In order to place your FNSKU labels onto the products, you have more options:
If you personally send the items to Amazon's warehouse, you can place the labels yourself before shipping.
You can pay a fee to Amazon and they will take care of it.
If your items go from the supplier directly into Amazon's warehouse, you have to email the FNSKU labels to the supplier and have him print the FNSKU barcodes on packaging or place FNSKU labels on the boxes.
Important note: The FNSKU labels have to be placed over the UPC barcodes (if the UPC/EAN barcode is visible), covering them.
If you need barcode FNSKU label printing, US Labels print and ship same day. 
CONCLUSIONS
You need a UPC barcode when creating a product's listing
You have to buy a UPC barcode if your manufacturer doesn't provide one or you sell private label products
You can apply for a GTIN exemption if you got approved for the Amazon Brand Registry
You can send the items to the Amazon warehouse with just the UPC labels placed on, but it's better to provide the FNSKU code
You'll get the FNSKU barcode in your seller central after creating a product's listing